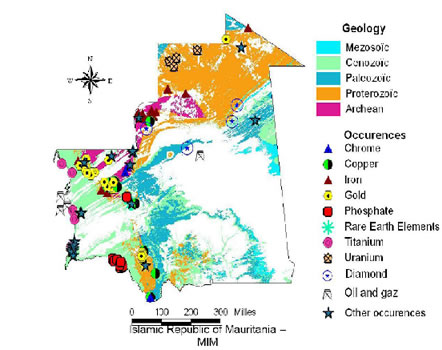 publié le : 30 Décembre 2012
Mauritania's ore extraction doubles in value over three years
Since 1999, the Mauritanian government has been implementing a major effort aiming at attracting new investments in the country's mining sector. A number of projects have been conducted (e.g. PRISM I and II) financed by an International Development Association (IDA), which includes the World Bank, and with overall investments reaching approximately 75 million USD.
The first goal was to improve knowledge about Mauritania's geology, and improving access to the country's geological information. Following previious work by the British Geological Survey and the French BRGM, the US Geological Survey has coordinated a major geological investigation. Ultimately, it was a total of nearly 100 geological reports that were produced over a period of 10 years, including satellite imagery, geophysical and geochemical investigation campaigns, describing the geology of Mauritania and its potential for mineral resources, as well as its potential for water, and for oil and gas resources.
Since the 70's, the State Owned SNIM has allowed Mauritania to be in the top 20 countries in the world for the iron ore production, reaching about 11 millon tons in 2011, and representing over decades about 40 % of the country's total export value.
However, since 2006, substantial gold and copper deposits have also been exploited by international companies, with a 20% annual growth rate in mine investors' exploration expenditure. As a result, production volumes have gradually increased for all three commodities, averaging +30% annually since 2003. The combined annual export value of Mauritanian ore extraction underwent a sharp increase from about 1 billion USD in 2008 and 2009 to an expected 2 billion USD in 2012, representing now about 50% of the country's total export value. Mauritania is already the second largest exporter of iron ore in Africa, with a production targeted to expand to 18 million tons in 2014 and 25 million tons in 2018.
With the entry in 2010 of Xstrata and Kinross, two of the world leaders in the mining industry, among the investors in Mauritania, new capital investments could even reach 10 billion USD, with a production volume increasing by five-fold within the next five to seven years.
In addition, it should also be noted that oil production has started in Mauritania in 2006, with three potentially commercially viable oil fields in one offshore production zone, and Tullow Oil, Total and Petronas currently conducting very active exploration campaigns on new potential oil fields, both offshore and inland.